Welcome to the latest What's on Netflix top 50 movies currently streaming on Netflix for February 2019. Our selection covers a mix of the best comedy, action, romantic, sci-fi and animated movies currently streaming on Netflix. We update this list every month with the new movies that have been added to Netflix.
This month sees the arrival of a couple of light hearted British movies amongst the other new arrivals. This is not, in itself, earth shattering! What is interesting is to compare and contrast the styles of About a Boy and American pie. Two fundamentally different movies from two sides of the Atlantic but by the sames directors. Let us know what you think.
---
50. (50) Disney's 101 Dalmatians – 1996
Directed by: Stephen Herek
Starring: Glenn Close, Jeff Daniels, Joely Richardson
Running time: 1hr 43min
The animated version of 101 Dalmatians was released in 1966 and was a Disney classic. The 1996 comes pretty close. Hugh Lawrie and Mark Williams – British comedians – are excellent as the bumbling dog catchers (who wouldn't be when there's 101 of them) and Glenn Close must have had a ball playing the evil Cruella. Of course, the dogs are clearly more inteeligent than the humans and this is why 101 Dalmatians must be taken most seriously. Or not. This is a great family watch.
---
49. (49) Mr. Bean's Holiday – 2007
Directed by: Steve Bendelack
Starring: Rowan Atkinson, Willem Dafoe, Steve Pemberton
Running time: 1h 30min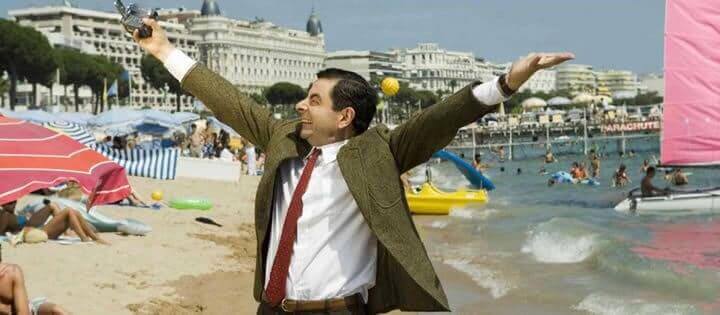 Mr Bean is a disaster. By that we mean that everything he touches turns to mud rather than that the movie is a disaster. There will always be room for good old fashioned British slapstick and Atkinson's character delivers in trumps. While there is a strong hint of cyncial devices to involve a more interantional audience, that really doesn't detract from some fine comedy.
---
48. (48) Sand Castle – 2017
Directed by: Fernando Coimbra
Starring: Nicholas Hoult, Logan Marshall-Green, Henry Cavill
Running time: 1h 53min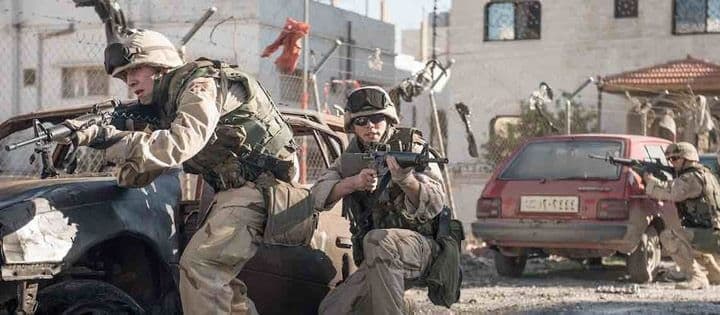 It is arguable that not enough time has yet passed for the movie industry to look at events in the middle east with any great authority. Sand Castle is a Netflix movie (Netflix are primarily TV producers) and the script could well have started out as a TV show. There are good lines and some pleasantly funny bits. This is a good movie dealing with a difficult subject matter. Perhaps it could have been better? You decide.
---
47. (47) Goosebumps – 2015
Directed by: Rob Letterman
Starring: Jack Black, Dylan Minnette, Odeya Rush
Running time: 1h 43min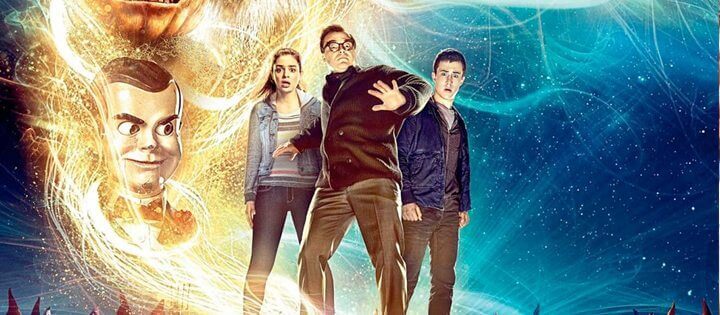 Goosebumps is a family friendly monsters movie with some nice special effects and quality performances from a largely unknown supporting cast. Jack Black in the lead role is his usual competent self. Based loosely on the series of Shivers children's books (Black's character is rather shamelessly called Shivers) which were, in turn, a "rip off" of the earlier series of Goosebumps books. This is the end of a procession of, er, recycled material that actually works.
---
46. (46) Transcendence – 2014
Directed by: Wally Pfister
Starring: Johnny Depp, Rebecca Hall, Morgan Freeman
Running time: 1hr 59min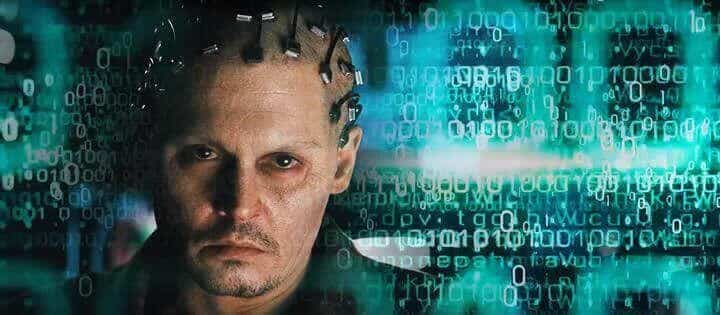 It's curious how often Johnny Depp has appeared in our list over time. He certainly has talent and works with great directors and writers. We might have answered our own question. Transcendence is a movie that will challenge you belief system on a number of levels. The idea that man can create perfect intellegence has been explored often in movies. Usually it looks at the results; Transcendence goes further.
---
45. (45) The Water Horse – 2007
Directed by: Jay Russell
Starring: Emily Watson, David Morrissey, Alex Etel
Running time: 1hr 52min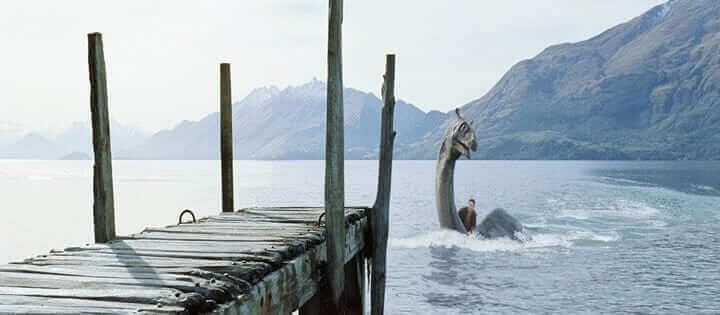 Have you been missing the Loch Ness Monster? We have. Thankfully, it's been brought to life. This is a family movie with an endearing story and fine CGI. Set before WWII, the period attitudes add to the romance of the movie and add a depth that might be missed by the kids but will be appreciated by an older audience.
---
44. (43) Hitchhiker's Guide to the Galaxy – 2005
Directed by: Garth Jennings
Starring: Martin Freeman, Yasiin Bey, Sam Rockwell
Running time: 1hrs 49min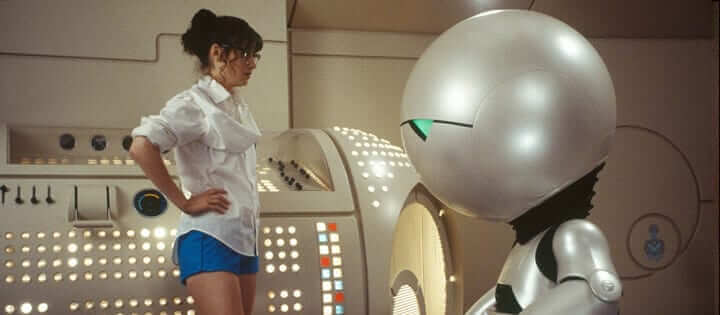 Far from one of the greatest movies ever made but from one of the best books ever written, The Hitchhikers Guide to the Galaxy has to sneak into our list. The movie came after hit radio and TV series, a five-part trilogy of novels and a BAFTA-winning computer game as if the opportunity for total absorption was not already sufficient. While this is essentially a British movie, the planet has been destroyed so that doesn't count.
---
43. (42) Mona Lisa Smile – 2003
Directed by: Mike Newell
Starring: Julia Roberts, Kirsten Dunst, Julia Stiles
Running time: 1h 57min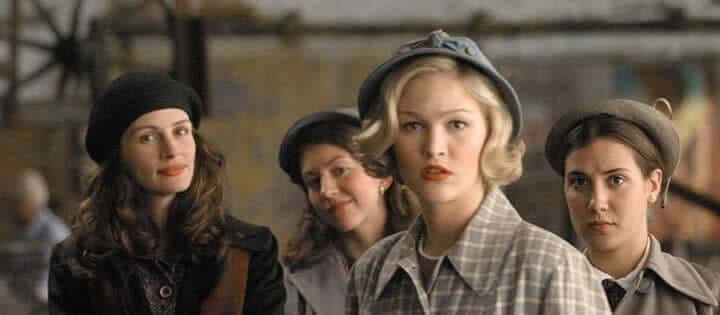 The idea of a progressive and adventurous teacher is hackneyed in the movies. That Julia Roberts should give it a go is little surprise. The good news is that the performances, without exception, are execellent. The characters draw us in and it's easy to empathize. Roberts puts in a considerably better delivery than her Erin Brockovich for which she won her Oscar
---
42. (41) Julie & Julia – 2009
Directed by: Nora Ephron
Starring: Amy Adams, Meryl Streep, Chris Messina
Running time: 1h 58min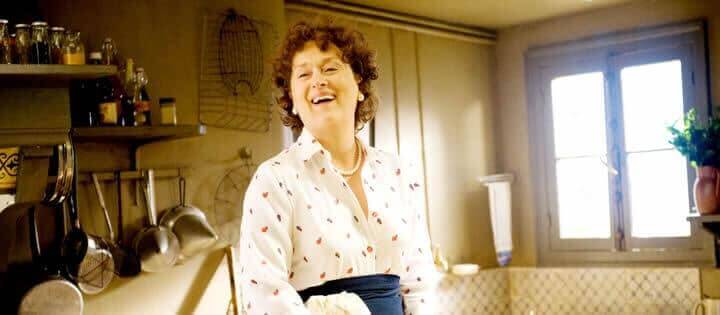 Meryl Streep hasn't featured in out Top 50 for a while now and the outstandstanding work of Nora Ephron (lets not forget You've Got Mail, Sleepless in Seattle and When Harry Met Sally…) is well represented here. This is actually a true story from the memoirs of Julia Child and Julie Powell who were remote in real life but joined but that most important of ingredients, butter. Why not learn to bake as well?
---
41. (40) 9 – 2009
Directed by: Shane Acker
Starring: Elijah Wood, Jennifer Connelly, Crispin Glover
Running time: 1h 19min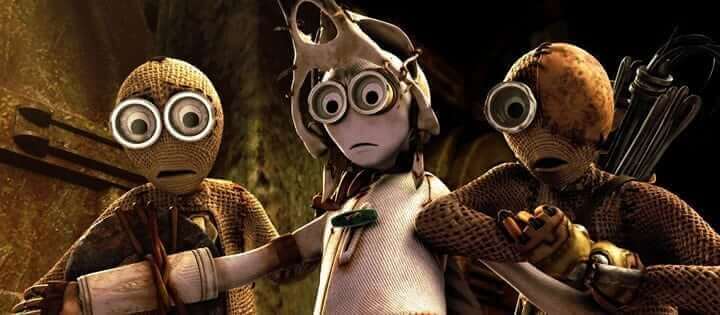 It would be easy to dismiss 9 as animation for animations sake. That would be wrong. While the concept is pretty surreal and the story rather indifferent, the delivery is very good. The bad guys are pleasantly bad and the good guys pleasantly endearing. This one draws you in and holds you. Against the backdrop of some exceptional artwork and great animation, this is probably not one for the kids. And therein lies the message. An animated movie for grown-ups has got be something special.
---
40. (39) Tears of the Sun – 2003
Directed by: Antoine Fuqua
Starring: Bruce Willis, Cole Hauser, Monica Bellucci
Running time: 2h 1min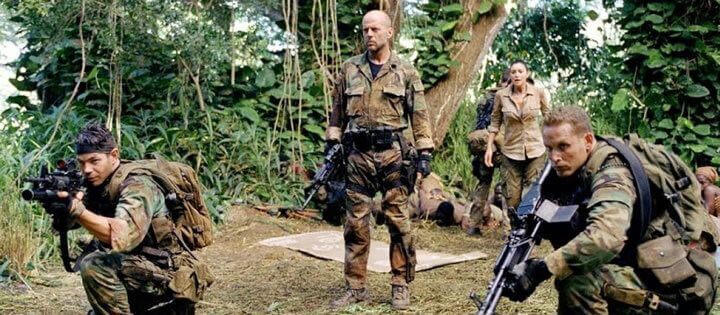 Tears of the Sun is a vehicle for Bruce Willis to do what he does best. The tough action-man expressionless hero delivering a deep moraility story. There is nothing sanitized here. The movie is brutal and there's plenty of action. The premise that "grunts" might have minds of their own and a healthy disregard for the Geneva convention is really rather refreahing.
---
39. (38) Chocolat – 2000
Directed by: Lasse Hallström
Starring: Juliette Binoche, Judi Dench, Alfred Molina
Running time: 2h 1min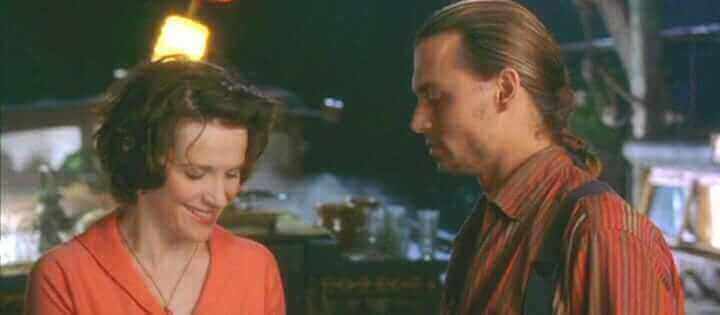 Nominated for 5 Oscars, Chocolat is up there with the best of the romcoms. This is a gentle movie about many things that matter life – love, sincerity, tolerance, good over evil and the enjoyment of life simple pleasures. And that includes chocolate of course. The performances from Jonny Depp, Judi Dench, Juliette Binoche in supporting roles are immaculate. Joanne Harris' novel is brought to the screen perfectly.
---
38. (37) Hercules – 1997
Directed by: Ron Clements, John Musker
Starring: Tate Donovan, Susan Egan, James Woods
Running time: 1h 33min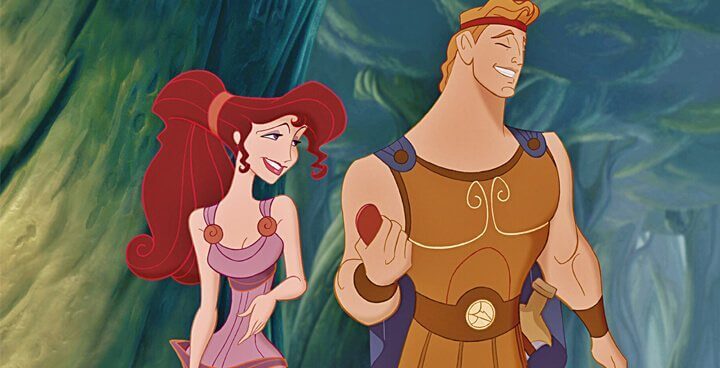 Hercules is a true story. Really. It's just very, very old. For a Disney movie, Hercules is quite exceptional in the depth of the wit and humor in the dialogue. James Woods as Hades is magnificent and the other voice overs work equally well. There has been plenty of urban myth over the years about subliminal "adult" material buried in the movie and you can follow that debate yourselves. Suffice it to say that you don't need kids around for a viewing of Hercules. This stands on it's own two feet as a movie for grown-ups.
---
37. (36) Cape Fear – 1991
Directed by: Martin Scorsese
Starring: Robert De Niro, Nick Nolte, Jessica Lange
Running time: 2hr 8min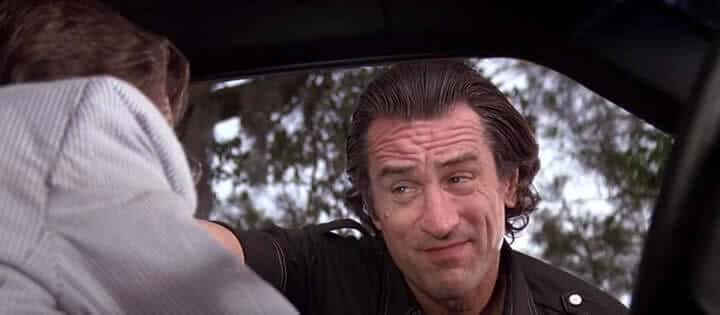 Cape Fear is a remake of the 1962 original starring Rober Mitcham. It received two nominations and is a powerful psycho-thriller and you don't need to be a Scorcese fan to watch it. This is one of De Niro's better but more understated performances and there are some fine cameos from the cast of the original movie. This is definitely one to make your hair stand on end.
---
36. (35) From Dusk Till Dawn – 1996
Directed by: Robert Rodriguez
Starring: Harvey Keitel, George Clooney, Juliette Lewis
Running time: 1hr 48min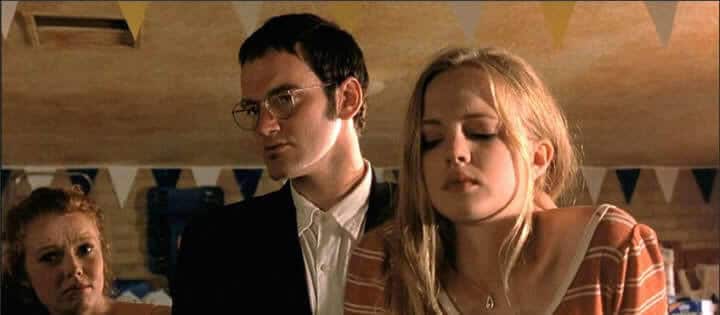 From Dusk Till Dawn, written by Quentin Tarantino, is a nice piece of vampire/zombie horror. It's an interesting twist that the bad guys (Tarantino plays a particularly nasty bad guy) are out done by some really really bad guys. Essentially a vehicle for the ocean of violence and gore that Tarantino fans expect, the subplot of a preacher who has lost his faith and has to find it again is the only depth to the movie, but even that is necessary rather than thought provoking. This is one for the boys, and that is proved by Salma Hayek in a bikini.
---
35. (34) The English Patient – 1996
Directed by: Anthony Minghella
Starring: Ralph Fiennes, Juliette Binoche, Willem Dafoe
Running time: 2hr 42min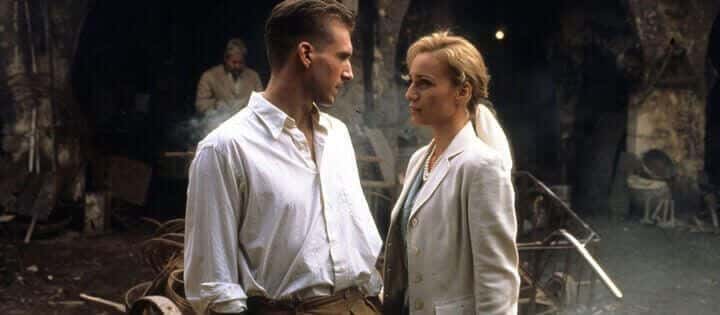 The English Patient bagged a mere 9 Oscars. Perhaps it should rank higher on our list. In reality, winning Oscars doesn't always relate to the popluarity of a movie. To watch this triumph requires an investment in the understanding of the material and not everyone has been prepared to do that. You should. The character portrayals are immaculate, the scenery powerful and the story complex without being over whelming.
---
34. (33) The Aviator – 2004
Directed by: Martin Scorsese
Starring: Leonardo DiCaprio, Cate Blanchett, Kate Beckinsale
Running time: 2hr 50min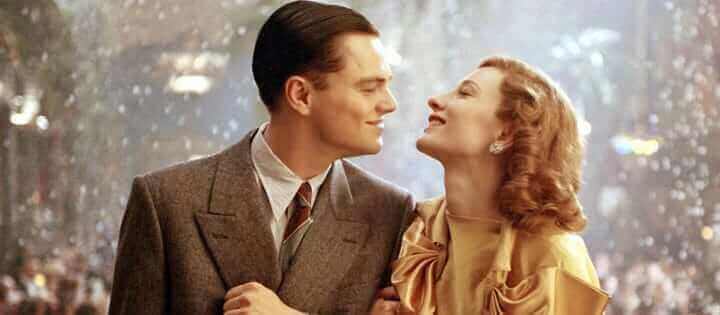 Many have heard of Howard Hughes but not everyone is aware of what a complete OCD weirdo he was. The Aviator goes a long way towards correcting that. Nominated for 11 Oscars and winner of 5, it plumbs the depths of Hughes mind with enormous sensitivity. Hughes inherited his fathers tool company (and therewith substantial weatlh) at a young age. This allowed him to indulge his passion for aviation. The great story comes from the Outlaw where he engaged his aircraft designers in the creation of a new concept in bras for Jane Russell.
---
33. (32) Happy Feet – 2006
Directed by: George Miller, Warren Coleman
Starring: Elijah Wood, Brittany Murphy, Hugh Jackman
Running time: 1h 48min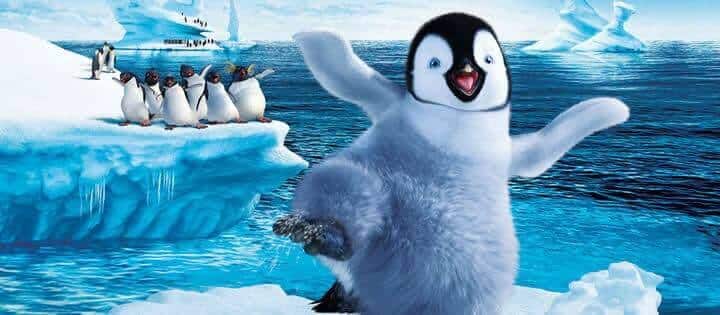 It's not often we get to use the word adorable but Happy Feet fully justifies it. Imagine a world where friends are made through singing and you can't sing. Bummer. Fortunately for Mumble (voiced by Elijah Wood) he can tap dance. And he's very good at it. But the movie isn't all sweetness and light. It deals with some big issues, not least the environment, but in a spendidly child friendly way. Trust us, by the end of this you'll want your own penguin.
---
32. (-) Billy Elliot – 2000
Directed by: Stephen Daldry
Starring: Jamie Bell, Julie Walters, Jean Heywood
Running time: 1hr 50min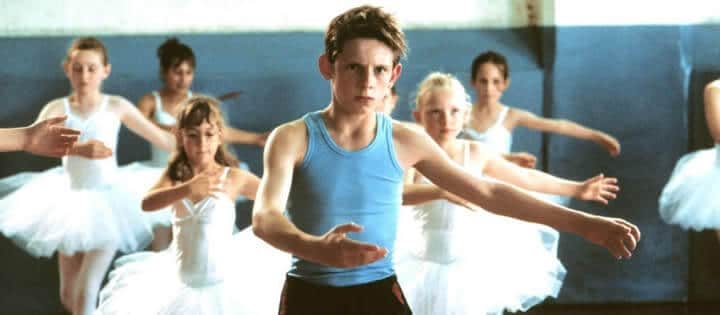 Set against a background of the UK miners strikes in the 1980s, Billy Elliot is a true feel good movie. As stereotypes break down, the young Billy's passion for dance takes over in a difficult family situation. The characterisation in this movie is perfect, especially as it's loosely based on a true story. The inspiration for the story was actually an opera singer. That doesn't matter. This movie works on every level.
---
31. (-) About a Boy – 2002
Directed by: Chris Weitz, Paul Weitz
Starring: Hugh Grant, Nicholas Hoult, Toni Collette
Running time: 1hr 41min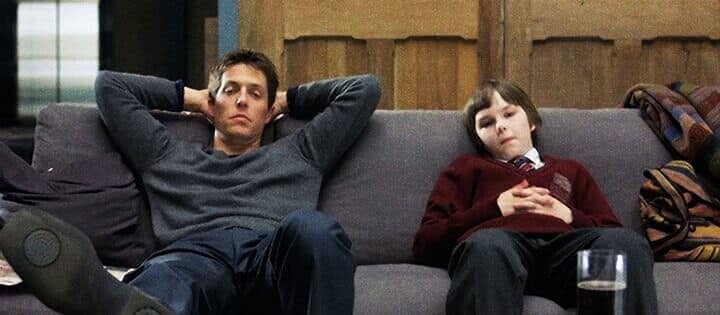 Unusually for a top British light hearted comedy, About a Boy does not come from the pen of Richard Curtis; rather it is an adaptation of a Nick Hornby novel. Also, Chris and Paul Weitz move seamlessly between the quintessentially US comedy of American Pie to a quintessentially Britsh setting. In reality, the Boy is the "Peter Pan" grown up rather than the child actor. This is a nice family movie.
---
30.  (-) American Pie – 1999
Directed by: Paul Weitz, Chris Weitz
Starring: Jason Biggs, Chris Klein, Thomas Ian Nicholas
Running time: 1h 35min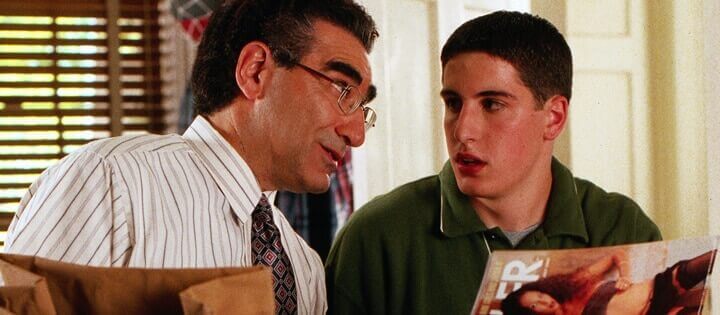 How often have we had to say this? The first of the series is so much better than the rather contrived sequels. You can't beat an original idea. As teenage comedies go, American pie is about as good as it gets. The laughs are relentless and perfectly delivered by an excellent cast. This is definitely a movie for multiple viewings.
---
29. (-) Hairspray – 2007
Directed by: John Waters
Starring: Sonny Bono, Ruth Brown, Divine
Running time: 1hr 32min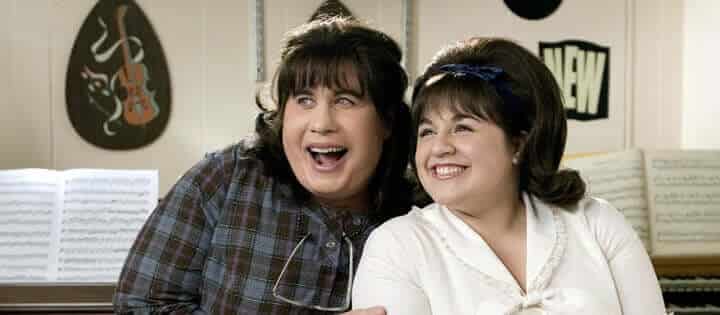 Hairspray, over the years, has taken on cult status. It is set in an awkward time of US history when discrimination was rife in every level of society – and, frankly, with the full support of the law. Nevertheless, this is a delightful parody on TV of the time. The dance sequences are far from contrived and the comedy is genuinely funny. Because the movie is parodying a period in time, it has stood the test of time well.
---
28. (-) Pretty in Pink – 1986
Directed by: Howard Deutch
Starring: Molly Ringwald, Jon Cryer, Harry Dean Stanton
Running time: 1hr 37min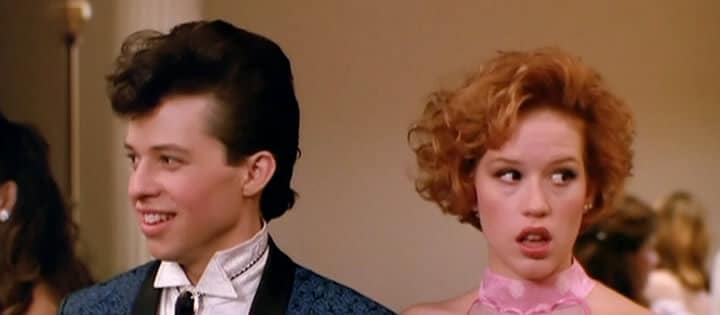 In the 1980s there was a flurry of coming of age movies; it was the flavor of the time. And several of them starred Molly Ringwald. Since then, she has largely worked on TV. Of the genre, Pretty in Pink is definitely one of the better movies. It has depth, credible characters and a strong story line all supported by a fine sound track. Many of the teenage issues of the time persist today. Well worth a watch.
---
27. (31) Film Worker – 2017
Directed by: Tony Zierra
Starring: Leon Vitali, Ryan O'Neal, Danny Lloyd
Running time: 1h 34min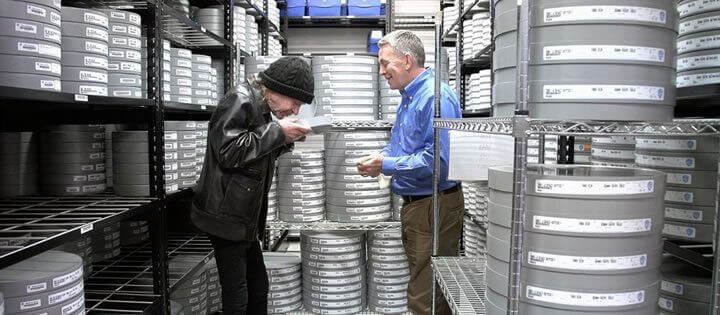 Leon Vitali gave up a thriving career as an actor to become Stanley Kubrick's loyal right-hand man. This is a biopic that offers deep insights into the workings of Kubrick specifically and the movie industry generally. Anecdotes from actors, family, crew members, and key film industry professionals abound. Behind every genius there is nearly always the one who take the vision and helps turn it into reality. Vitali is that one.
---
26. (30) Animal House – 1978
Directed by: John Landis
Starring: John Belushi, Karen Allen, Tom Hulce
Running time: 1hr 49min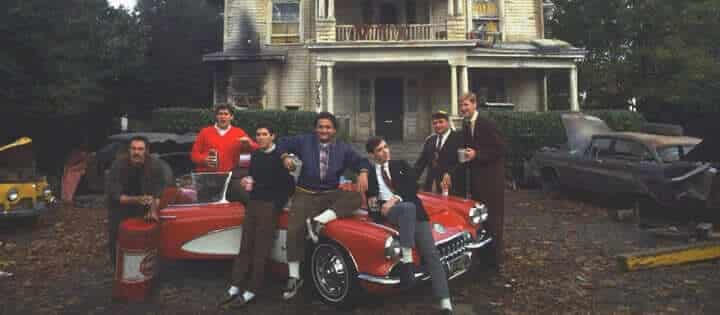 Animal House was, and probably still is, one of the funniest movies every made. There have been many attempts to imitate but none has ever come close. The late great John Belushi's creation of Bluto Blutarsky is a true piece of his genius. If you've never watched it, you should; and if you've seen it before, you'll want to see it again. And if you've never crushed a beer can on your forehead, what better time to start.
---
25. (29) Jay and Silent Bob Strike Back – 2001
Directed by: Kevin Smith
Starring: Jason Mewes, Kevin Smith, Ben Affleck
Running time: 1h 44min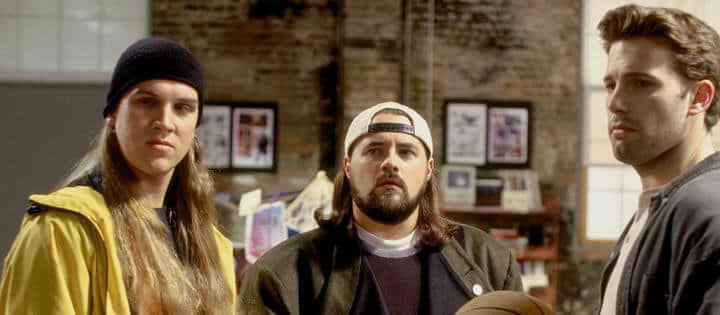 Jay and Silent Bob have appeared in several movies involving Kevin Smith. If you haven't seen it, Dogma is probably the best. Through their multiple appearances, the two protagonists have developed a considerable back story including the idea that his first word as a child was the F bomb. These are fine comedy creations and we hope to see them appear again in the future.
---
24. (27) Beasts of No Nation – 2015
Directed by: Cary Fukunaga
Starring: Abraham Attah, Emmanuel Affadzi, Ricky Adelayitor
Running time: 2h 17min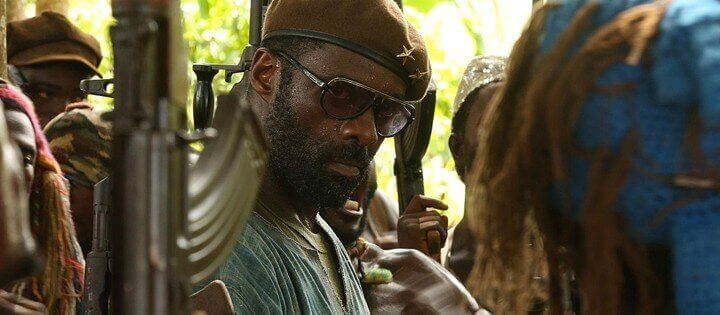 Beasts of No Nation was the movie that Netflix had in its inventory to change cinema forever. While it didn't quite cause the revolution they were hoping for, it did leave Netflixers with one of the best movies of 2015. Thought-provoking and moving, the movie starred Idris Elba and followed the civil conflict in Africa.
---
23. (26) The Hateful Eight – 2015
Directed by: Quentin Tarantino
Starring: Samuel L. Jackson, Kurt Russell, Jennifer Jason Leigh
Running time: 3h 7min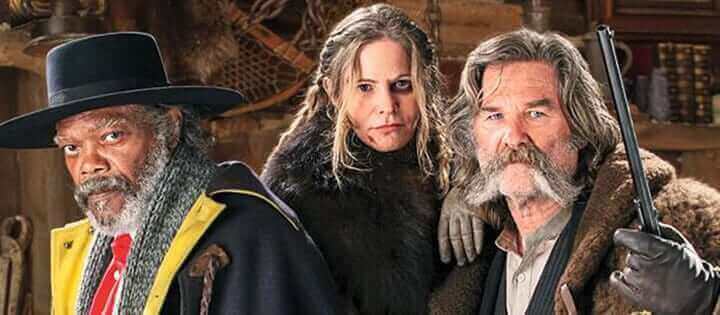 The Hateful Eight takes over 3 hours to earn its Oscar and that was for the music. As Tarantino movies go, there's plenty of gore and violence but the dialogue really isn't up to his usual standard. Also, the story is virtually non-existent; its just people killing other people. The movie was much hyped before its release and the script was leaked adding to the hype. If you're a Tarantino fan, give it a go. If you're a western fan, don't expect a lot of glorious scenery.
---
22. (25) Ghostbusters – 1984
Directed by: Ivan Reitman
Starring: Bill Murray, Dan Aykroyd, Sigourney Weaver
Running time: 1h 45min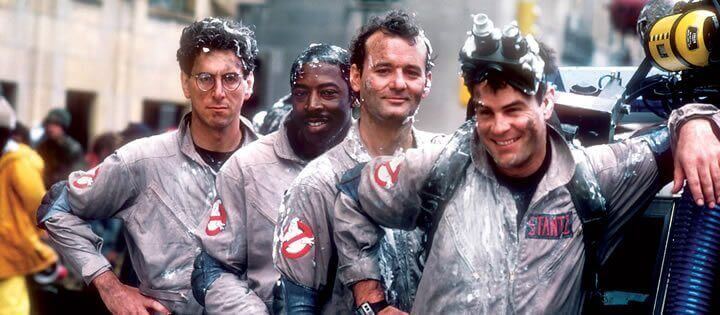 Ghostbusters is, quite simply, a latter day comedy classic. The sequels do not do it justice and this is the movie of the franchise that has stood the test of time. Rick Moranis actually steals the show despite great performances from Bill Murray and Sigourney Weaver and the laughs just keep coming. The two Oscar nominations include the theme song by Ray Parker Jr which anyone can still whistle. Excellent.
---
21. (24) Hot Fuzz – 2007
Directed by: Edgar Wright
Starring: Simon Pegg, Nick Frost, Martin Freeman
Running time: 2h 1min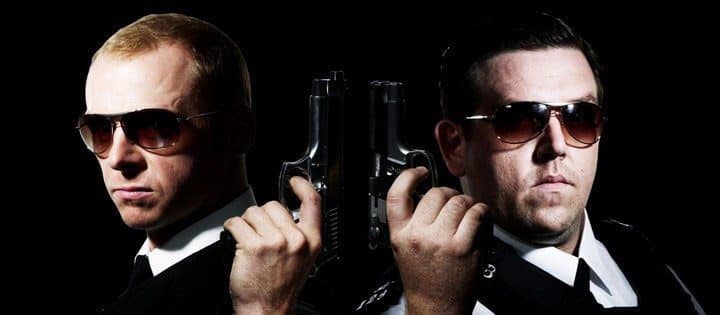 The second movie in the Cornetto trilogy is by far my favorite and thankfully, streaming on Netflix. With Nick Frost and Simon Pegg back in action, this time, instead of fighting zombies they're patrolling a quaint and quiet town in the countryside. But not all is as it seems. Yes, Simon Peggs runs into a fence. Watch it.
---
20. (23) The Addams Family – 1991
Directed by: Barry Sonnenfeld
Starring: Anjelica Huston, Raul Julia, Christopher Lloyd
Running time: 1h 39min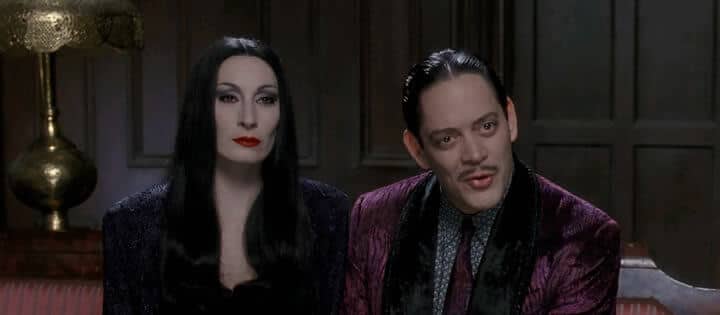 The Addams Family is a dark comedy masterpiece. Developed from the cartoon series which launched in the New Yorker in 1938, the movie has been highly influential in Goth subculture. The character portrayals are immaculate and while it would have been easy to stray into nudity and profanity, the movie avoids this. It's a great family watch. Now try and keep the catchy theme out of your head!
---
19. (20) Black Hawk Down – 2001
Directed by: Ridley Scott
Starring: Josh Hartnett, Ewan McGregor, Tom Sizemore
Running time: 2h 24min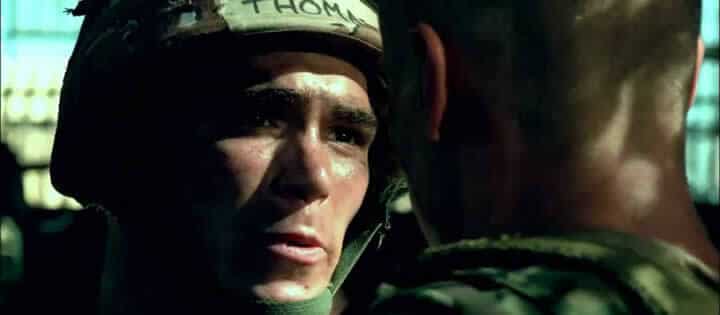 Collecting two Oscars, Black Hawk Down is the true story of a disastrous American operation in Somalia. This is brutal realism (slightly unusual for Ridley Scott) with no undercurrents. No love story, no contrived dialogue, no happy ending. War is gruesome and the movie pulls no punches. This is not one for the faint-hearted. And ask yourself, waht were the Ameircans doing in Somalia in the first place?
---
18. (19) The King's Speech – 2010
Directed by: Tom Hooper
Starring: Colin Firth, Geoffrey Rush, Helena Bonham Carter
Running time: 1h 58min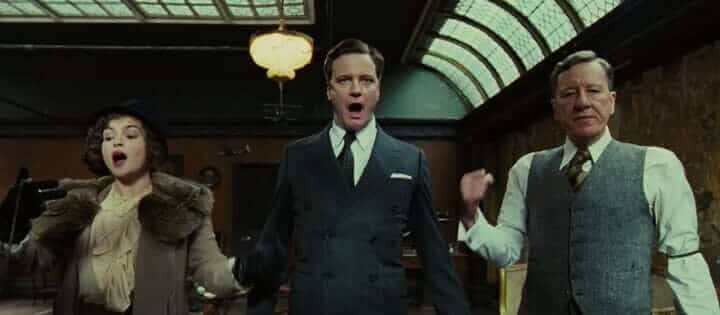 When the British knock out a great movie, they don't hang around. The King's Speech collected 4 Oscars from it's 12 nominations. There is an enduring respect if not love for the British royal family around the world and there seems to be and enduring appetite for stories about them. Reference, of course, the Netflix Original drama The Crown. Events surrounding the abdication are well know but this is a nice look at what was going on from a completely different angle.
---
17. (18) Kill Bill
Directed by: Quentin Tarantino
Starring: Uma Thurman, David Carradine, Daryl Hannah and many more
Running times: 1h 51min, 2h 17min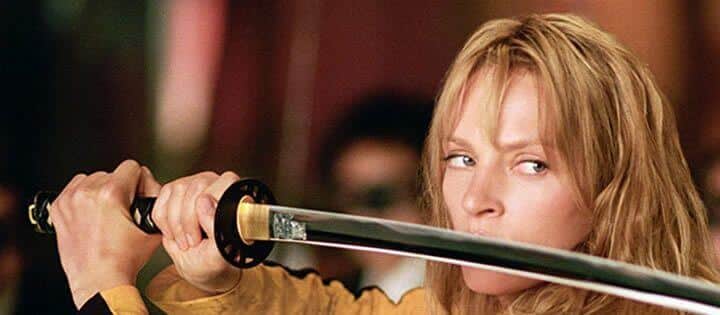 We've bundled the two Kill Bill movies together because they're basically one movie and should be watched in one sitting. Apart from the combined length, it remains a mystery why they were released separately. This is Tarantino trademark violence and gore. The scenes in Japan are especially powerful and the use of animation is a really clever stuff.
---
16. (17) American Gangster – 2007
Directed by: Ridley Scott
Starring: Denzel Washington, Russell Crowe, Chiwetel Ejiofor
Running time: 2h 37min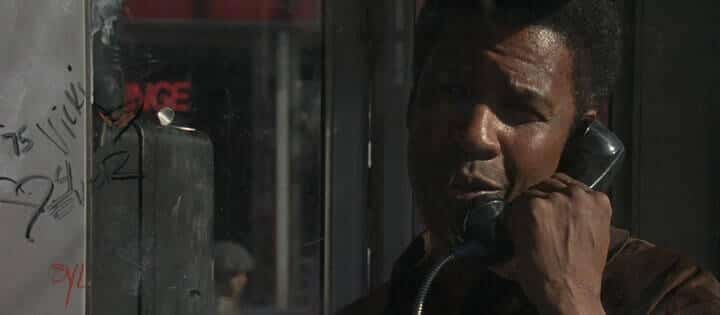 We have yet another Ridley Scott! And why not? He's a genius. Based on a true story, American Gangster is a realistic view of drug trafficing and no-one in the unfortunate chain of the world of drugs is spared. It might have done better than it's two Oscar nominations as the violence is rationed and therefore far mor powerful than a full action movie.
---
15. (16) The Theory of Everything – 2014
Directed by: James Marsh
Starring: Eddie Redmayne, Felicity Jones, Tom Prior
Running time: 2hr 3min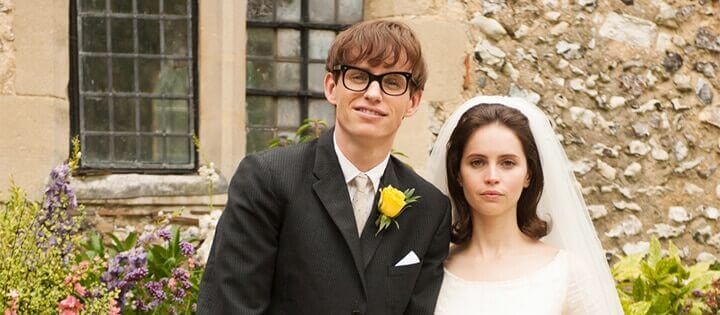 The number of biopic movies that have won the best actor Oscar in the last 30 years is disproportionate. Stephen Hawking was an extraordinary man and Eddie Redmayne, an extraordinay actor delivers an extraordinary performance in the story of his life. There's no great hidden depth or message here; just a story of a life well lived. Inspirational? Definitely. Moving? Very. Will you end up understanding black holes? Almost certainly not.
---
14. (15) No Country for Old Men – 2007
Directed by: Ethan Coen, Joel Coen
Starring: Tommy Lee Jones, Javier Bardem, Josh Brolin
Running time: 2hr 2min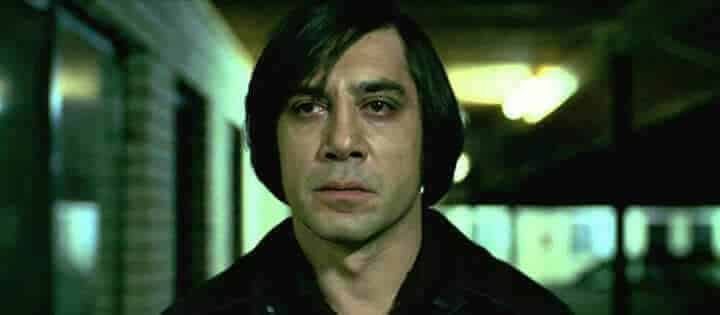 The Coen brothers at the top of their game bring us a multi-Oscar winning masterpiece.  Javier Bardem who plays the worst of baddies is the first Spanish actor to win an Oscar, and it's obvious why he won from his first scene. The movie has no music, and that adds to the tension. Cast your mind back to Jaws and what the music did for that movie, and you'll start to realise just how well this movie is made to maintain it's tension without a soundtrack. Here's a throwaway: did you know that a movie which starts with a voice over should always end with a voice over.
---
13. (14) The Boy in the Striped Pajamas – 2008
Directed by: Mark Herman
Starring: Asa Butterfield, David Thewlis, Rupert Friend
Running time: 1h 34min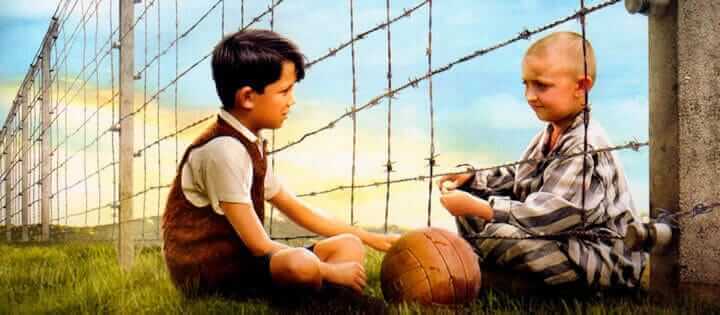 A deeply moving movie about the friendship between two young boys through the wire of a holocaust concentration camp, The Boy in the Striped Pyjamas is an examination of the devastating effect of war on two innocents. The holocaust is one of the indictments of the Germans during this desperate period of their history – "We were only following orders" – but that it should have been imposed on young children who knew nothing of the concept is beyond comprehension.
---
12. (13) The Truman Show – 1998
Directed by: Peter Weir
Starring: Jim Carrey, Ed Harris, Laura Linney
Running time: 1h 43min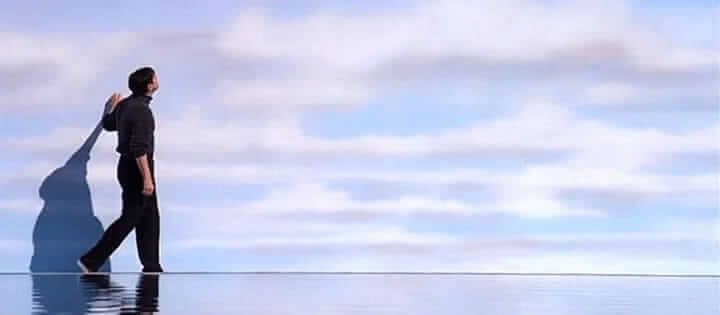 Jim Carrey made his name as a lightning fast rubber faced comedian and his ventures into serious roles have not always been comfortable. The Truman Show stands apart. The concept is a wonderful piece of "what if" imagination and it's perfectly explored. The metaphorical development of the boy to the man and his ultimate liberation will leave you with tears in your eyes.
---
11. (11) The Departed – 2006
Directed by: Martin Scorsese
Starring: Leonardo DiCaprio, Matt Damon, Jack Nicholson
Running time: 2h 31min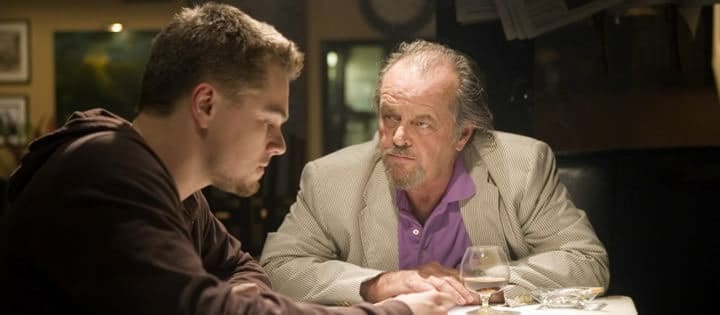 For a movie with a slightly contrived story line, The Departed collected a respectable 4 Oscars. Scorsese is a great director and with some top acting talent, this should not be a surprise. Without wishing to give any spoilers away, the Departed has a unique and shocking scene that you will take away for a long time. Both intense and, at times funny, this movie does not have a dull moment.
---
10. (10) Monty Python and the Holy Grail – 1975
Directed by: Terry Gilliam, Terry Jones
Starring: Graham Chapman, John Cleese, Eric Idle & many more
Running time: 1h 31min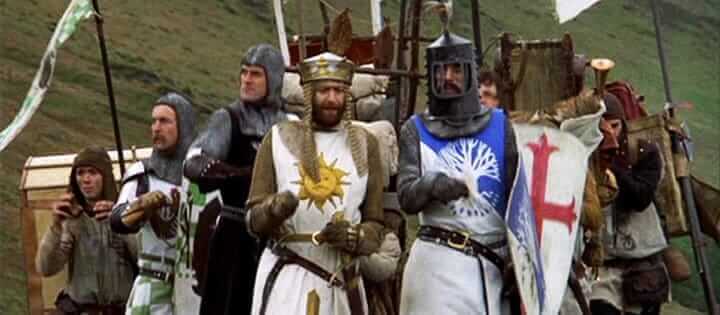 Monty Python and the Holy Grail has been described as one of the funiest movies ever made. Anyone familiar with the Pythons irreverend and surrealistic view of the world can only agree. This is loosely a romp through the history of King Arthur and the Knights of the Round Table. Since the story is largely myth and legend, the Pythons have a free rein to shred it. And they do.
---
9. (9) LA Confidential – 1997
Directed by: Curtis Hanson
Starring: Kevin Spacey, Russell Crowe, Kim Basinger and more
Running time: 2hr 18min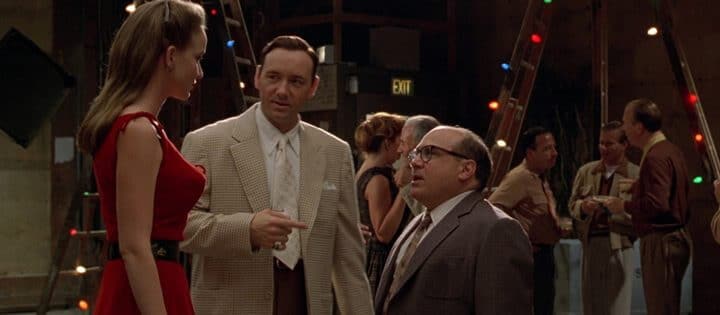 A strait-laced, a brutal, and a sleazy cop – three crime drama stereotypes – hammer through the corruption of 1950s Los Angeles. Ho hum. We have an all star cast, a fine adaptation of a novel, excellent direction, observant production and some great photography. Even though she didn't get top billing, she's the focus of the poster and Kim Bassinger is superb. As we've already observed, there's more tha enough crime drama about but this one of the better.
---
8. (8) Indiana Jones and the Raiders of the Lost Ark – 1981
Directed by: Steven Spielberg
Starring: Harrison Ford, Karen Allen, Paul Freeman
Running time: 1h 55min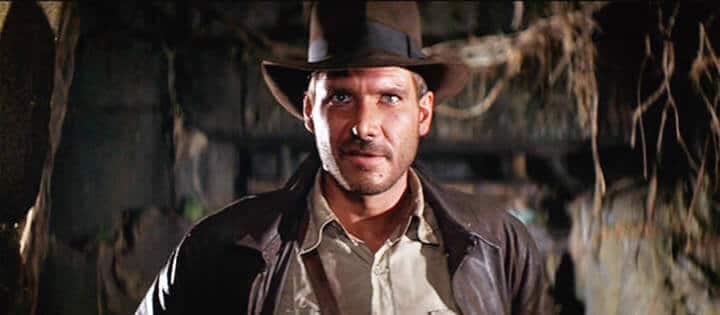 Archeology eh! Now there's a dull subject. Except when the reward is priceless riches and power. Odd since Indiana Jones isn't particularly interested in either. This a Spielberg adveture with plenty of comedy, action and one-liners which will come round time and time again. Get yourself a whip and a homburg why don't you?
---
7. (7) Eternal Sunshine of the Spotless Mind – 2004
Directed by: Michel Gondry
Starring: Jim Carrey, Kate Winslet, Tom Wilkinson
Running time: 1hr 48min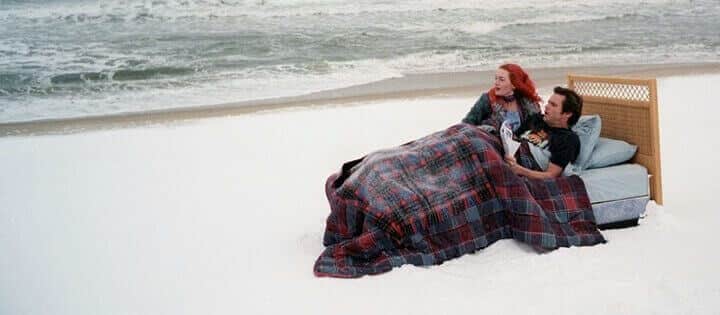 With an Oscar for best writing, Eternal Sunshine of the Spotless Mind is a love story with a twist. The love has apparently gone and the two lovers seek to have the memories erased from their minds. But they can't. This movie works on many levels and the emotional backdrop will draw you in like no other love story.
---
6. (-) Jaws – 1975
Directed by: Steven Spielberg
Starring: Roy Scheider, Robert Shaw, Richard Dreyfuss
Running time: 2h 4min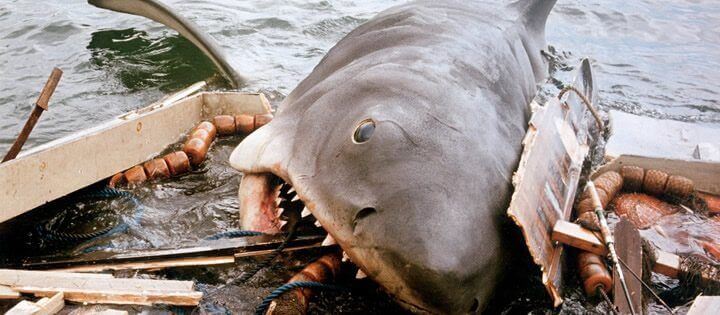 From the first notes of genius composer John Williams' score to the last scenes of the movie, Jaws takes control of your imagination and doesn't let go. Part of the strength of the movie is the time it takes for us to get our first glimpse of the enormous shark. And what a glimpse; this is one of the best pieces of tension build up and release ever. And that's just the beginning of the middle. There's the end still to come. It's worth noting that Jaws caused a widespread hatred of sharks, largely unnecessary but which has taken a devastating toll on the population.
---
5. (4) Good Will Hunting – 1997
Directed by: Gus Van Sant
Starring: Robin Williams, Matt Damon, Ben Affleck
Running time: 2hr 6min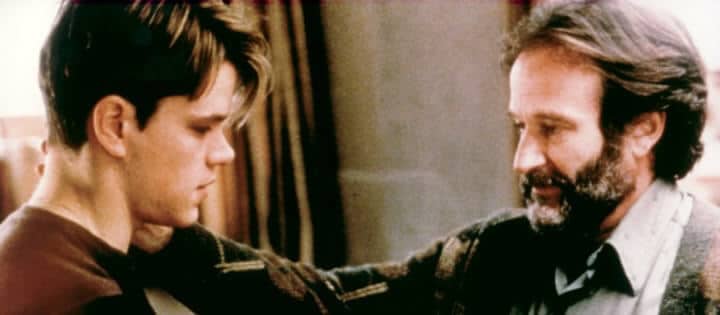 By the time he made Good Will Hunting, Robin Williams was firmly established as a highly competent serious actor. The storyline is not complicated but the characterisations are and the professor student relationship is perfectly delivered. In April this year, The Empire Top 100 list had Good Will Hunting at no97. For unknown reasons, the movie wasn't universally well received but, we think, should have been higher in the list.
---
4. (5) Se7en – 1995
Directed by: David Fincher
Starring: Morgan Freeman, Brad Pitt, Kevin Spacey
Running time: 2hr 7min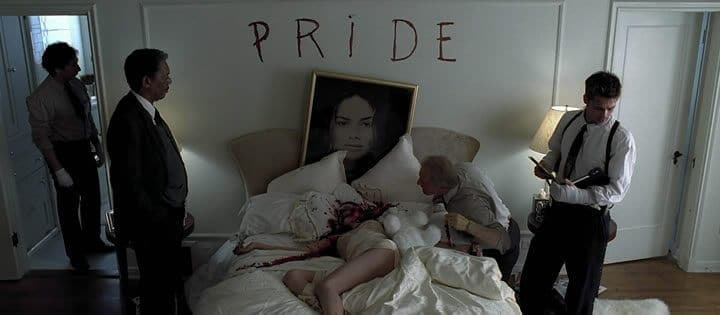 Pitched as a crime drama (yawn), Se7en is much nearer to a horror classic (unyawn). This is a darkly disturbing movie in which the serial killer is on a project to get rid of seven people guilty of the seven deadly sins. These are pride, greed, lust, envy, gluttony, wrath and sloth in case you'd forgotten. Spoiler alert? The seventh victim…. no, no no.
---
3. (3) Pulp Fiction – 1994
Directed by: Quentin Tarantino
Starring: John Travolta, Uma Thurman, Samuel L. Jackson
Running time: 2h 34min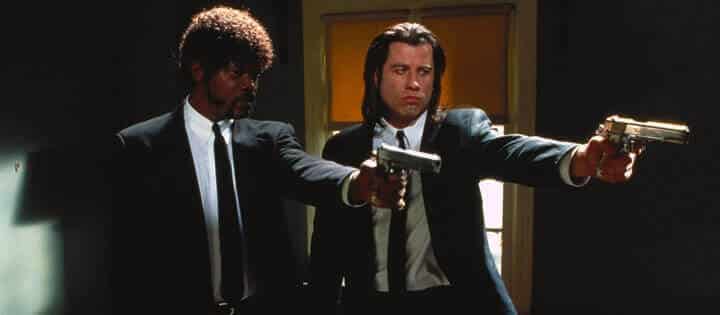 Pulp Fiction moves seamlessly between 4 simultaneous storylines with plenty of trademark Tarantino violence and humour. The big unanswered question is what is in the briefcase? There have been many speculations over the years but no definitive answers. Our favourite explanation is that it's Marcellus' soul and the band-aid on his neck is where it was taken out. But the way it shines, it could just be gold. The performances in Pulp Fiction are as good as it gets, Tarantino's choice of music is superb, and the screenplay is a masterpiece. This movie works on every level.
---
2. (2) The Dark Knight – 2008
Directed by: Christopher Nolan
Starring: Christian Bale, Heath Ledger, Aaron Eckhart
Running time: 2h 32min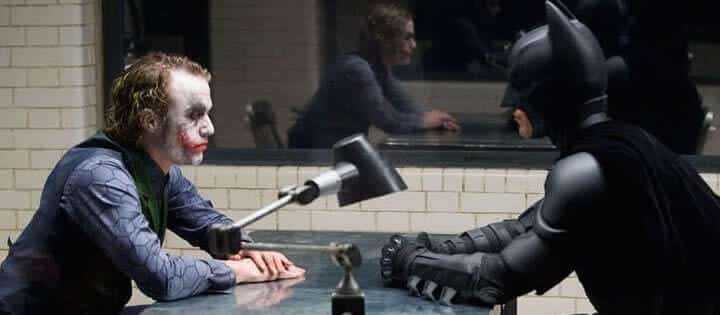 Much has been written about the heights Heath Ledger might have scaled but for his untimely demise. The Dark Knight was his last screen appearance and spawned the discussion. This is a grim revisit of the caracature 1989 verion of Batman and the Joker and much closer to the Batman and Joker with their inherent angst and blackness that was originally intended. Ledger was awarded a posthumous Oscar.
---
1. (1) Schindlers List – 1993
Directed by: Steven Spielberg
Starring: Liam Neeson, Ralph Fiennes, Ben Kingsley
Running time: 3h 15min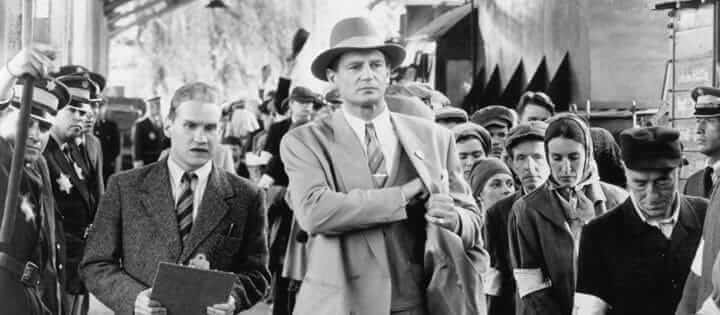 Another classic from the great Steven Spielberg, Schindlers List is the true story of the efforts of a conscientious German businessman to help Jews avoid the Nazi concentration camps. Oskar Schindler was not a particularly likeable person which makes this story even more remarkable. This is a long movie at over 3 hours but the 7 Oscars it won explain why it's a must watch. Let's hope it's lessons have been learned for all time.