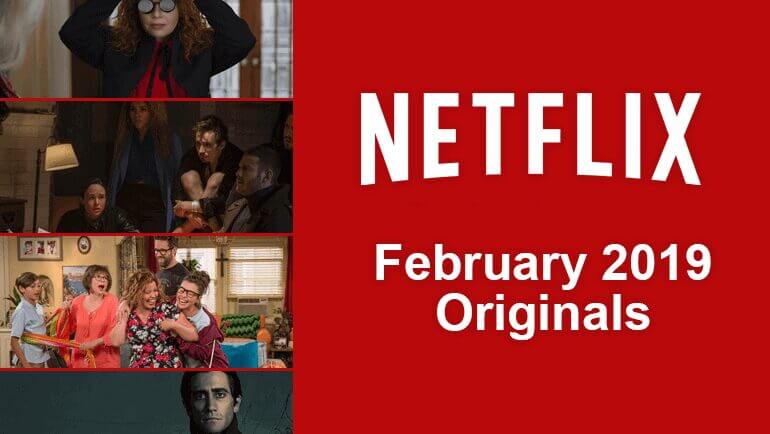 The second month of 2019 is already shaping up to be a stellar month for new Netflix Originals. Welcome to your preview of all the new Netflix Original movies, series and stand-ups on the way in February 2019. 
The year will already kickstart with a fantastic January with the likes of Unbreakable Kimmy Schmidt returning for the final season as well as the final season of A Series of Unfortunate Events.
The full list of titles coming in February 2019 will be available come late January 2019 and we'll be updating this post every week as and when we hear of more titles scheduled for February.
Article Continues Below...
Free Rein: Valentine's Day & True and the Rainbow Kingdom: Happy Hearts Day
Release Date: February 1st
Two children's valentines day specials are on the way in February for Free Rein and True and the Rainbow Kingdom. Both shows are looking forward to new seasons and both got Christmas episodes too.
The Free Rein episode is described as follows by Netflix: "Love is in the air as Zoe and friends go on a quest to find a fabled Maid's Stone. But when rivalry blinds them to danger, it's Raven to the Rescue!"
The True valentine's episode is described as follows: "Ture and Bartleby try to cheer up the Rainbow Kingdom's loneliest citizen, but his gloomy mood is contagious!"
---
Always A Witch (Siempre Bruja) (Season 1)
Release Date: February 1st
Language: Spanish
Netflix has had a good spell of series and movies based around and witches and it's now time for the Spanish market to get their own show.
The new series sees a young witch travel between the past and present versions of a town called Cartagena. The series is produced in Colombia which as one commenter puts it: "Finally a chance for the world to see that Colombia isn't just coffee and cocaine!"
---
Velvet Buzzsaw (Movie)
Release Date: February 1st
In the mood for a thriller? Netflix has you covered. The new movie comes from the director of Nightcrawler, Dan Gilroy. This new thriller/horror will star Jake Gyllenhaal, John Malkovich, Billy Magnussen, Natalia Dyer, and Toni Collette. Make sure to check out our preview for more information!
Set in the art world, we follow a brand new struggling up and coming artist. She lands a windfall when an artist dies and she liberates his pieces. As you can probably guess, problems then arise.
https://www.youtube.com/watch?v=yQ81-W9nsTU
---
Russian Doll (Season 1)
Release Date: February 1st
A brand new comedy series from the creators of titles like Bachelorette, Heathers, Parks and Recreation and Parks and Creation. Not too much is known about the new series but we do know that Leslye Headland, Natasha Lyonne, and Amy Poehler are behind the series and is currently set to star George Aloi, Jes Davis, and Whitney Devlin.
The series will consist of 8 episodes and will be about a young New Yorker who is going to great lengths to get out of a party that's being thrown for her.
---
High Flying Bird (Movie)
Release Date: February 8th
High Flying Bird is the next big movie from the award-winning director Steven Soderbergh. The sports movie will cover an agent who pitches a rookie basketball client on an intriguing and controversial business opportunity during a lockout.
The cast list for High Flying Birds is impressive. It features the talents of Zazi Beetz, Zachary Quinto, Kyle MacLachlan, and Andre Holland.
There's another big draw to this movie. The director behind the movie is filming it entirely through an iPhone.
---
One Day at a Time (Season 3)
Release Date: February 8th
One of the more underrated sitcoms on Netflix is called One Day at a Time now headed into its third season.
The Emmy-nominated show continues to go from strength to strength and season 3 will see the family deal from the storylines from season 2 such as Lydia's and Schneider's citizenship test results.
---
The Epic Tales of Captain Underpants (Season 2)
Release Date: February 8th
He's back kids! Captain Underpants returns to your screen son February 8th. Get ready for more fun and weird adventures with the underwear crusader.
---
The Umbrella Academy (Season 1)
Release Date: February 15th
Netflix has been reliant on Marvel for their superhero content up until now. The Umbrella Academy which will consist of 10 episodes will see a band of superheroes return together after their adoptive father passes.
The cast for The Umbrella Academy is looking like a big draw too. Ellen Page, Tom Hopper, Robert Sheehan, and Mary J. Blige are all signed up for the first season of the show.
---
The Breaker Upperers
Release Date: February 15th
The hilarious New Zealand comedy has already been out for the better part of a year down under but is finally getting released to the rest of the world as a Netflix Film.
The 'Breaker Upperers' is an agency located in Auckland that helps those that struggle to break up with their significant other. Using unorthodox methods to help their clients Jen and Mel who run the business are very committed to their cause.
---
The Dragon Prince (Season 2)
Release Date: February 15th
The Dragon Prince also makes a return to Netflix with only take a short break since its release back in September 2018. Binge your hearts out for round 2!
---
Paddleton (Movie)
Release Date: February 22nd
Mark Duplass and Ray Romano star in a brand new drama coming to Netflix in February. It's about a kindling of a new friendship of two misfit neighbors when one is found to have terminal cancer.
Prep the tissues as this one is going to be a tear-jerker.
---
Suburra: Blood on Rome (Season 2)
Release Date: February 22nd
The first ever Italian Netflix Original is making its return in 2019 after first debuting back in October 2017. The series is a mix between The Wire and Breaking Bad following the real world events of power clashes between Rome and Vatican City. It's expected to come to Rai 2 in Italy at some point in the future too.
We've got a bit more information on the second season in our preview.
---
What Netflix Original are you looking forward to the most in February? Let us know and make sure to be subscribed below to get updates on everything coming to Netflix.