Welcome to your weekly rundown of the biggest stories from Netflix's top 10 hourly figures drop for the week ending April 16th, 2023. This week, we'll cover Beef, Queenmaker, Hunger, Obsession, and Florida Man.
Every Tuesday, Netflix updates its top 10 stats page with 40 new hourly figures of the top movies and shows of the past seven days. If you want to browse the top 10 hourly data easily, visit our tool, which has just been updated with even more data from the Nielsen top 10s.
Note: In this report of Netflix's hours viewed from April 10th, 2023 to April 16th, 2023, we'll use "Complete Viewings Equivalent," or CVE, expressed in millions. That means we divide the hours viewed announced by Netflix by the runtime of films or series. It allows for better comparisons between films and series, but it's not an audience metric. It is the minimum number of viewings if they were all complete from the first second to the last of the film or season.
Article Continues Below...
---
1. Beef and Hunger soar in their second week.
Two titles had great second weeks in the charts, with the first one being Beef which is being submitted as an anthology series to the Emmy and currently stands as the best-reviewed new Netflix series of 2023. It doubled its hours viewed in the second week, a rare feat for new US series released on a Thursday. That's all despite the ongoing controversy surrounding one of its main stars.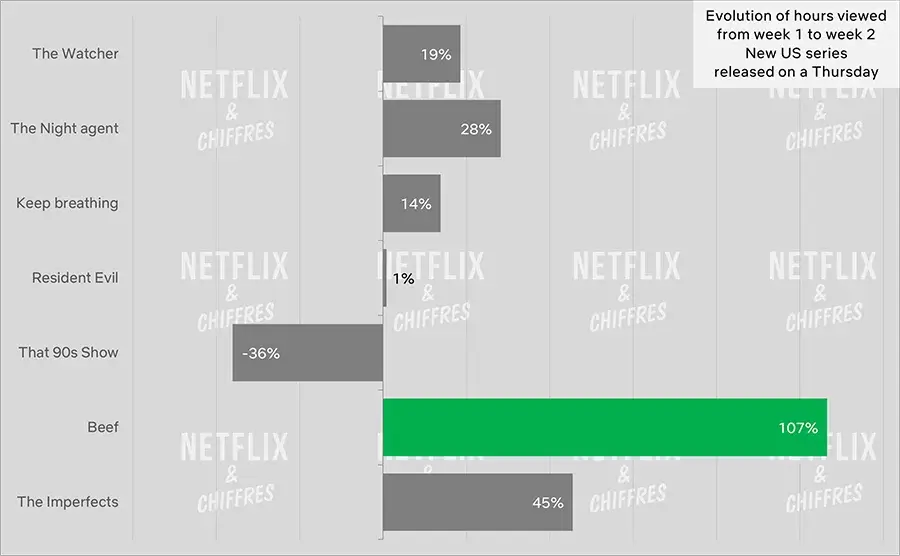 The second title doing wonders is the Thai thriller Hunger which nearly tripled its numbers from its first week (granted, it was released on a Saturday, which helps). The film is on track to land in the all-time Top 10 for international films after its first 28 days, which is no small feat.
---
2. Seven Kings Must Die is attracting numerous fans of the series.
The Last Kingdom's fans united last week as the concluding film of the series reached 19.2M CVEs after three days, making it the second-best debut for a British film, behind Luther: The Fallen Sun.
Two films adapted from a series having successful launches? Expect more of them in the coming years, presumably!
---
3. Watchers are quite obsessed with Obsession
Sexy series and films always are quite a draw on Netflix (remember the numbers for the 365 Days trilogy? They were crazy!), and Obsession is confirming this once again as the series logged the best launch for any European series released on a Thursday with 15.9M CVEs, far beyond 1899.
Its numbers should fall off quickly after its first week, with only four short episodes making up the series.
---
4. Queenmaker is not ruling the charts.
Last week marked the worst week on record for the cumulative hours viewed of the Top 10 International charts and a whopping -49% decline compared to the same week last year.
So Queenmaker making it to first place in this chart last week is nice, but it should not hide the fact that those are lackluster numbers for a new South Korean series released on a Friday, with only 1.3M CVEs.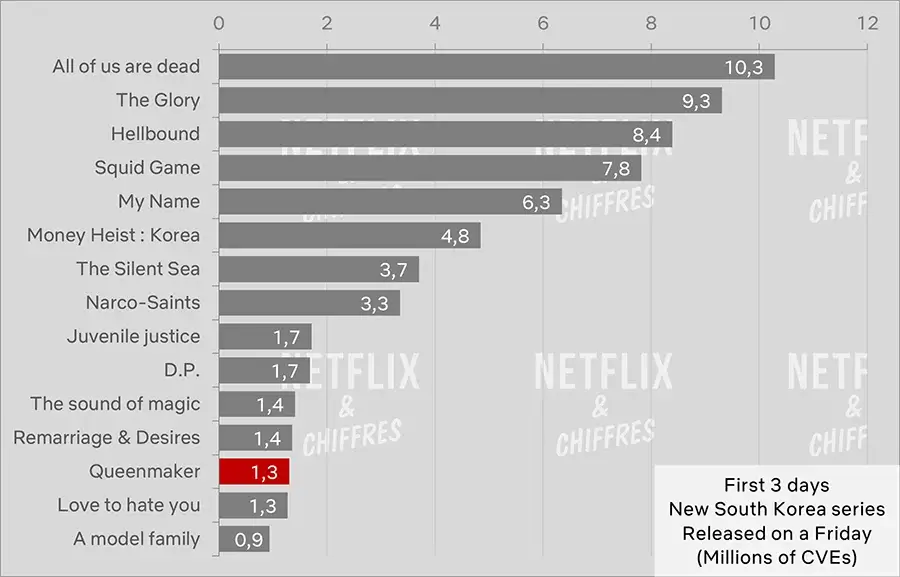 It might pick up some steam in the coming weeks as it is a very long series, but still, that's quite disappointing in the wake of the success of The Glory.
---
5. Florida Man hits a tree.
There's no renewal at stake for Florida Man with Edgar Ramirez, since it's a limited series, but it's no success either, racking up only 4.4M CVEs during its first four days.
It's better than Unstable, but it's in the lower end of the range for new US series released on a Thursday, the new preferred day for releasing US series for Netflix.